What is a
Network Visibility Controller (NVC)?
Network management for the visibility layer is a critical mechanism for Information security and IT professionals to enable them to locate, isolate, and implement network visibility solutions for performance and network security related issues. In today's fast-paced, digital-first ecosystem, complete visibility is vital in maintaining control of your network and eliminating (or at least minimizing) blind spots and system downtime.

Lacking a dedicated visibility layer, you will only be able to react to data security issues (after the fact) instead of addressing them before they become a serious network problem. Network management for the visibility layer is an essential network visibility tool for empowering your IT's network awareness in real-time, and facilitating any relevant responses should the need arise. 
NVC03The pro-active management mechanism should address the following two primary concerns: 
Enable a comprehensive 360° network visibility (on your visibility layer)
Enable simple and intuitive configuration of the network nodes for optimal traffic management
Niagara's Visibility Controller
– bringing visibility to your network
Niagara Visibility Controller (NVC) is an Enterprise-wide unified manager for network visibility. Whether you are an administrator looking for an overview of all of your visibility nodes (network packet brokers, network taps, network bypasses) for your virtual data center, or an engineer studying the configuration details, the key to addressing the evolving and dynamic needs of the network visibility layer is best described as being seamless.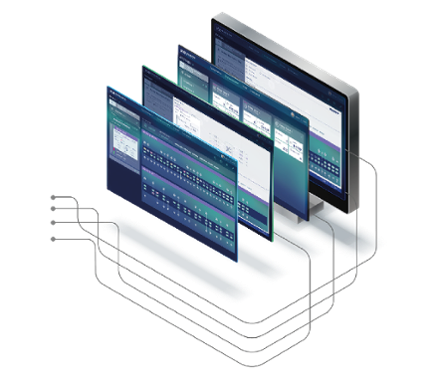 360° Visibility and
Centralized Management
Even networks with the most advanced hardware and technology can be vulnerable without effective overall management. As you expand your network and the number of visibility nodes in your network architecture increases, it becomes paramount to obtain total situation awareness of your visibility layer. This increase is the result of the growing pervasiveness of network visibility and the move from single-device solutions to multi-device solutions and from single-site deployments to multi-site deployments. For virtual data centers and other environments, managing each device individually via its dedicated device GUI becomes inefficient.
Take note also of system reconfiguration, upgrades, and replacement (or addition or retirement) of nodes and devices. Keeping tabs on any changes in general, is a headache, but when you add to this the mission-critical nature of knowing that each node or device is in fact operational and functioning as required – this adds more weight to the need for a resilient yet flexible and adaptable centralized network management controller.
The NVC provides network professionals with a powerful tool to quickly and seamlessly navigate their network and manage visibility via a centralized platform with the following proven functionality:
Visibility Groups – Logical containers of visibility elements tailored to your needs
Topology and Navigation – A 360° view of the network connectivity to single element view
Granularity – Topology of port status, configurations, and device schematics
This three-layered integrated approach enables seamless management of your visibility layer no matter how many nodes you have or what type they are.
Advanced abstraction layer –
for timely management and network-wide application awareness
The NVC empowers a true application-aware network to manage and improve the performance of business-critical devices and applications. It monitors devices such as network routers, access points and switches, and various wireless controllers.
The NVC's advanced abstraction layer enables the creation of an intelligent, dynamic, and responsive network visibility layer – one that interacts with the network services in real-time. The abstraction layer also serves to hide the complexities associated with managing and configuring the visibility layer, thus increasing the ease-of-use. It opens new opportunities for network administrators to enhance their service offerings and service management. Moreover, by increasing the ease-of-use, the probability for errors and the time and effort to manage the network visibility layer is significantly reduced.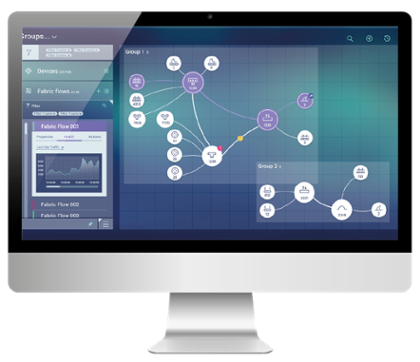 Simple Orchestration for
Complex Visibility Configurations
Network services and applications are mushrooming to encompass increased levels of sophistication and complexity involving application monitoring, performance management, and network security. The increase in service complexity increases the importance of an intuitive and user-friendly flow that enables engineers to accomplish their tasks quicker and with fewer errors. NVC enables authorized users to easily and seamlessly configure their visibility nodes. By treating connected visibility nodes as a single virtual switching fabric, configuring multi-device solutions becomes transparent without the need to manually configure each of the connected devices one by one.
Unified management for network packet brokers, network bypasses, and network taps.
Ability to see the 'forest' and the 'trees'.
Seamlessly navigate between three panes of management, from Group view to detailed Device view.
Available in a self-install Virtual Machine package.User Management, User Roles, and Authentication.
Centralized management, monitoring and configuration of multiple visibility nodes.
Reducing configuration time and errors.SDN architecture – OpenFlow discovery and topology visualization.
User-friendly and intuitive Fabric Flow creation.
Easy-to-complete firmware updates and configurations updates of multiple visibility nodes from a single pane-of-glass UI.
REST API Support for programmability.
Situation Awareness and
Node Visibility
Users can easily drill up to a higher view or drill down to a more detailed view to obtain the optimal mix between overall visibility node monitoring and detailed port configurations.

Each view offers a specific set of contextual actions.

In the Group view, the user can dynamically group visibility nodes into hierarchical logical containers for a simple top-down bird's eye view.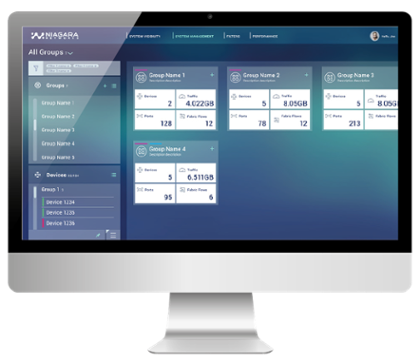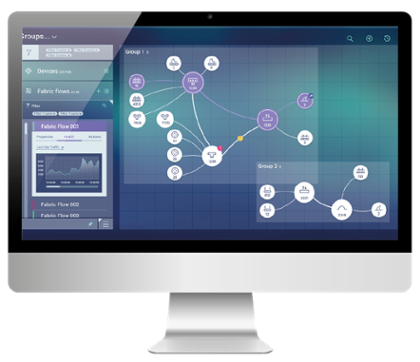 In the Topology view, the users clearly see the visibility nodes and their connection to network infrastructure devices such as routers and switches on the one hand, and the destination services, such as monitoring, security and performance management, on the other hand.

The main screen depicts an editable topology canvas with all the visibility appliances and their connections to network source and service destinations. An expandable left panel supports easy navigation and provides details on the selected entity without hindering the overall topologic view of the network. A user selected Fabric Flow is highlighted on the main screen with a health monitor in the left panel.
By selecting specific devices from the Topology view or by directly drilling from the left hand panel devices tab to a specific granular view, the user can monitor relevant device details and statuses.

This includes detailed port status, connected ports, detailed port mapping, and more.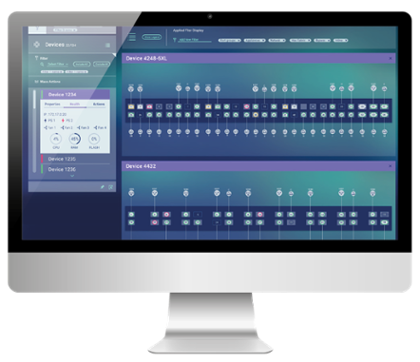 NVC gives you complete visibility. This means that you will be better able to protect your data, improve your operational efficiency, and successfully manage networks of all types and complexity. It also means that you and your team can benefit from increased flexibility when introducing new elements into your network, or troubleshooting any issue.
The well-known saying "you can't manage [i.e. monitor and control] what you can't see" is becoming more and more accurate as cyber-attacks increase, BYOD continues to rise in popularity, and as networks expand beyond the walls of physical data centers.
The only sure method of ensuring complete monitoring and understanding of your network in real-time is a visibility solution. Niagara Network has painstakingly crafted its NVC solution for maximum performance, in order to deliver the most timely and valuable insights into your network.

Contact Us for more Information
Contact us via e-mail or online enquiry form and we will get back to you as soon as possible.