Threat Detection System
Adversary-centric detection and proactive threat hunting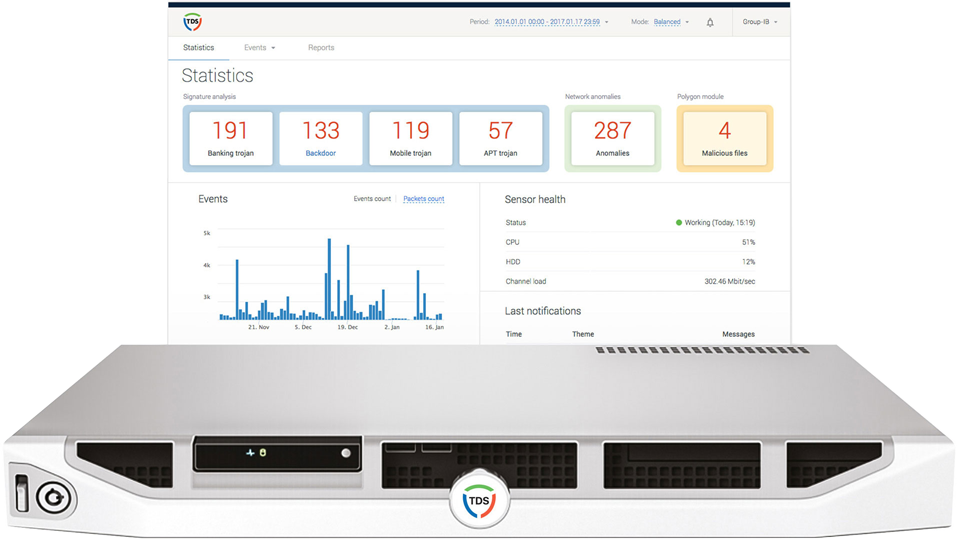 comprehensive solution to hunt for threats and respond efficiently to complex targeted attacks in corporate network
Know your enemy
Combat advanced threats
Get full visibility over attack chain
Automated threat hunting
Streamlined response
Alerts correlation & enrichment
Global threat hunting based on Threat Intelligence allows to detect even the most sophisticated attacks.
HUNTBOX
Automated Threat Hunting
Alerts correlation & enrichment
Attack chronology reconstruction
Incident Management
POLYGON
Sandboxing & Intrusion Prevention
File and link analysis in an isolated environment
Additional IoCs extraction
ENDPOINT
Endpoint Detection & Response
Behaviour analysis
Application & device control
Streamlined response
SENSOR
Intrusion Detection System
Detect infected devices
Analyse traffic anomalies
Extract files & links
Detect access attempt across all channels of attack
Gather data to reconstruct the whole story of attack
Automated detection &
response for efficient operation
Streamline and optimize operations
Lower your total cost of ownership
Focus on the most critical threats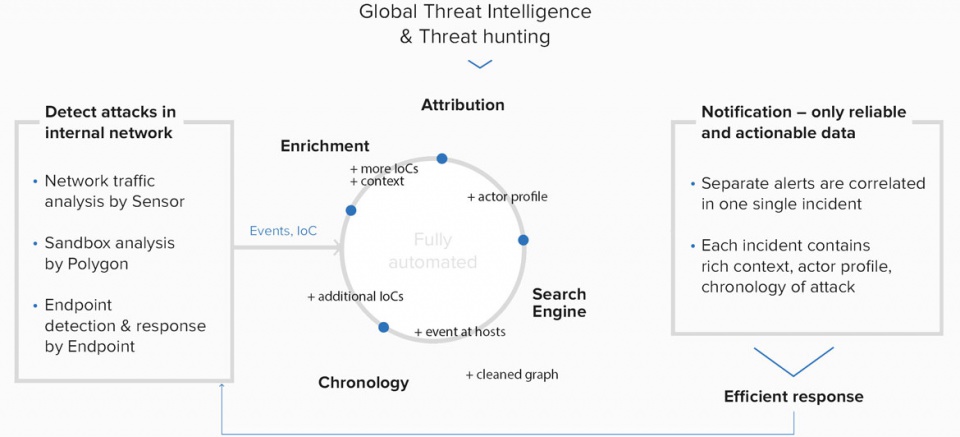 TDS –
Advanced Threat Detection
Group-IB TDS (Threat Detection System) is an intrusion detection and prevention tool to protect your network. It is a unique product by Group-IB, born out of our incident response expertise, skills in detecting malware and threat intelligence foundation.
As a component of Group-IB's early warning system TDS benefits from other products, which contribute to its effectiveness. Group-IB's SOC team is there for you 24/7 to prevent and remedy any network threats and breaches. Advanced persistent threat detection lowers cyber threats to your organization and ensures your network is protected from the most advanced cyber threats and threat actors.
| | | | |
| --- | --- | --- | --- |
|   | TDS-250 | TDS-500 | TDS-1000 |
| Form factor | 1U | 1U | 1U |
| Dimensions in mm | 42,4 × 434 × 394,3 | 42,4 × 434 × 394,3 | 42,8 × 482,4 × 607 |
| Power supply | 1 × 250W | 1 × 250W | 2 × 350W |
| Network interfaces for traffic reception | 1 × 1000BASE-T | 2 × 1000BASE-T | 4 × 1000BASE-T |
| Peak rate in Mbit/s | 250 | 500 | 1000 |