Threat Intelligence
Actionable Threat Intelligence from the World's Top Cybercrime Experts
Group-IB has been pioneering incident response and cybercrime investigation practices since 2003. This experience and understanding of threat actors' behaviours have evolved from our own investigation tools to an intelligence gathering network that now feeds Group-IB Threat Intelligence.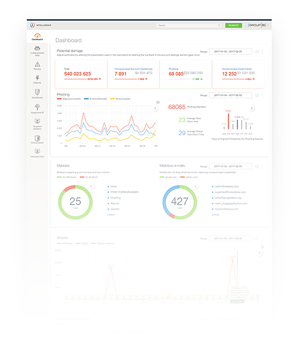 Get the Most out of
Group‑IB Threat Intelligence
Know your enemy
Be Prepared
Empower your Team
Pivot Strategy
Access the Unknown
Monitor for PII Leakage
Watch Smarter
Prevent Phishing
Protect your Brand
Track threat actors targeting or planning to target your company
Be aware of and prepare for actors who aim to disrupt your business. Receive proactive notifications about on planned attacks, changing TTPs, and evolving behaviours from our database of 100,000+ threat actor profiles compiled over 15 years of international investigations.
Actionable security briefs on potential threats
Be prepared for future attacks with detailed information and IoCs of new threats targeting your industry or company. Threat briefs are drafted by experienced intel experts, rated in terms of reliability and include actionable recommendations on how to mitigate threats.
Dedicated analysts passionate about solving complex cases
Access to dedicated intel analysts to conduct custom research (RFI). Group-IB experts collect and analyse information in multiple languages, and provide background to threats that are unclear to outsiders. Up to 40 hours of personal analyst support are included in the Group-IB Threat Intelligence subscription pack.
Acquire Strategic Intel & Forecasts
Keep up with the constantly changing threat landscape to better understand whether you need to adjust your IT security investment strategy. Tailored for CISOs and top-managers: metrics, reporting, monthly dispatches, annual trends & forecast reports.
Monitor the Deep and Dark Web
Receive warnings of threats from sources which are either inaccessible to or misunderstood by outsiders. Group-IB has sockpuppets developed over 10 years and has infiltrated sources in closed hacking communities where crawlers, scripts or "big data" are ineffective.
Detect leaked data before it ends up for sale on the black market
Identify compromised data from malware control panel or criminal infrastructure – accounts, bank cards, money mules, International Mobile Equipment Identity (IMEIs) — along with information on when, where and how it has been exposed. Context enables to not only reaction to but also shut down the source of the breach to prevent further damage.
Enrich your existing security stack
Improve your system's blocking and detection capabilities by enriching it with indicators from Group-IB Threat Intelligence. We detect threats that originate in Russia and Eastern Europe at the attack preparation and testing stages, which helps clients identify attacks early. Group-IB Threat Intelligence is available through Threat Intelligence Platforms (TIPs), API, STIX/TAXII and can be aesily integrated into SIEM, firewalls, IDS/IPS, and other security systems.
Detect, investigate and remove phishing
Group-IB proprietary technology helps detect 5,000+ unique cases of phishing daily. It is designed to proactively hunt for phishing based on customised criteria, extract phishing kits, and respond automatically in order to speed up the detection, investigation, and mitigation of phishing attacks. For the most complex cases, CERT-GIB uses its authority to remove phishing pages quicker on average than global providers. We also provide a rich background to help identify and block threat actors' email addresses in cases where stolen credentials have been transferred.
Monitor and counteract brand abuse
Group-IB Threat Intelligence detects fraudulent websites at the domain creation stage. We warn about advertising that pushes your customers to malicious domains, identified expired and fake SSL certificates, and fake or malicious mobile applications.
Finished threat intelligence
with advanced RFI service
Sources
Technologies
Deliverables
Team
Partners
Human intelligence — incident response, investigations, interception of cybercriminal communications
Malware intelligence — network sensors & sandboxing, honeypots, sinkholing, spam traps
Data intelligence — C&C forensics, malware ATS, card shops, compromised data checkers, phishing collection points
Open sources — URL sharing, public sandboxes, blogs and reports, social media, proxy and VPN services
Patented algorithms and machine learning for rapid data correlation
Proprietary phishing detection & phishing kit extraction technology
50+ ISP-level network sensors and honeypot network
Automated malware configuration extraction
Compromised data search and extraction tools
Internet fingerprinting
Machine learning detection engines
No network integration required
Web interface with detailed reports on detected threats
STIX/TAXII/API integration with existing security stack
Access to personal analyst support (RFI)
Monthly threat dispatches and annual report
Best-in-class analyst capabilities and RFI service
15 years of experience in incident response & investigations
200+ multilingual experts in Russia, the Middle East, North & South America, Asia
24/7 CERT-GIB to resolve the most urgent incidents
Integrated into threat intelligence platforms: Anomali, EclecticIQ, ThreatConnect, ThreatQuotient
Official partner of international cyber crime fighters: Interpol, Europol, IMPACT
Accredited member of international associations: FIRST and Trusted Introducer