Your family's precious – so give them our ultimate protection.

Kaspersky Total Security helps protect your family – when they surf, shop, socialize or stream. Plus, extra privacy protection securely stores their passwords & key documents… protects files & precious memories… and helps safeguard kids from digital dangers.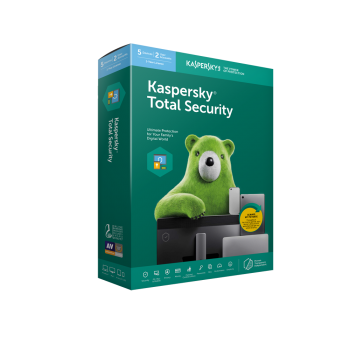 Benefits
Key Features
System Requirements
Protects privacy, passwords, files & photos
Protects money when you bank & shop online
Protects your children… online & beyond
Award-winning security
Innovative security helps protect your family against viruses, ransomware, spyware, phishing, dangerous websites, spam, banner adverts* and more.
*For PC only

PC, Mac & mobile
We help you to keep your family safe – on every device. And, if an Android tablet or phone goes missing, we help you protect all the data stored on it… and help you find the device.

Privacy protection
Tracking and spying can invade your family's privacy – and phishing can steal their identities. That's why we help you prevent your family's online activity being tracked**, protect personal data and stop your family's own webcams being used to spy on family members**.
**For PC & Mac only.

Secured connection
With our VPN connection, your family can access more websites and content – including sites that are outside your region. And, when a family member connects to the Internet – even if they're on public Wi-Fi – if their connection is unsafe, our technologies automatically guard against threats. 

Safe Money
When your family's online banking or shopping, we add extra security layers – watching over their Internet connection and helping to keep their money and account details safe.**
**For PC & Mac only.

Safe Kids
We help you keep your kids safe on their computers or mobiles – blocking online threats, plus inappropriate websites & content… and helping you regulate how much time kids spend on their devices, manage their use of apps and keep watch over your child's whereabouts.

Password management
Now, nobody needs to remember all their individual passwords. Every password is securely stored and ready for easy access from PC, Mac & mobile… to help your family sign in to their favorite websites and online accounts – quickly and securely.

Photos & files protection
Irreplaceable photos, music and memories all need to be protected against loss or theft – so we help you create backup copies… and encrypt your family's confidential files, so hackers can't read them.*
*For PC only

Secure – not slow
You want your family's devices to perform as they're designed to – and so do we. That's why our security works 'behind the scenes', without any fuss.

Easy to use
Security shouldn't slow your family down… so our ultimate protection is simple to set up and easy to run – on all your family's devices.

For all devices
Internet connection required – for product activation & updates and for access to some features
Webcam Protection technology only runs on PCs & Mac computers. The feature is available for a range of compatible web-cameras. For the full list of compatible devices, please visit: support.kaspersky.com/14102 (for PCs) and support.kaspersky.com/14248 (for Mac Computers)

 Windows®-based desktops and laptops
1,500 MB free space on the hard drive
Microsoft® Internet Explorer® 10 or higher
Microsoft .NET Framework 4 or higher
Microsoft Windows 101 Home / Pro / Enterprise2,3
Microsoft Windows 8 & 8.1 / Pro / Enterprise2 / 8.1 update3
Microsoft Windows 7 Starter / Home Basic & Premium / Professional / Ultimate — SP1 or higher3
Processor: 1 GHz or higher
Memory (RAM): 1 GB (32-bit) or 2 GB (64-bit)
 Windows-based tablets (system with an Intel® processor)2
Microsoft Windows 101 Home / Pro / Enterprise2, 3
Microsoft Windows 8 & 8.1 / Pro (64-bit3)
Minimum screen resolution: 1024×600
Mac desktops and laptops
1,800 MB free space on the hard drive
Memory (RAM): 2 GB
macOS 10.12 – 10.13
Android smartphones and tablets4
Android™ 4.25 – 8.1
Minimum screen resolution: 320×480
iPhone and iPad6
Please note we do not support the beta versions/previews of new operating systems. Only final, officially released operating systems are supported by the product.
If you're using Windows 10, you might need to download & install all available patches for your Kaspersky Lab security software. The product is not intended to operate on Windows 10 Mobile/S editions.
The Kaspersky Safe Kids service isn't available for this version of OS or these types of devices.
Some product features may not work on 64-bit operating systems. Please visit support.kaspersky.com/13812 to get more details.
The Kaspersky Internet Security for Android functionality may currently be limited on certain devices. Please visit support.kaspersky.com/10216 for more details. If you are using Kaspersky Safe Kids on Xiaomi© or ASUS© devices, please visit support.kaspersky.com/12980 for more details on how to setup & use the service.
The Kaspersky Safe Kids service operates on Android™ 4.4 – 8.1, iOS® 10.0 or higher.
Only Kaspersky Password Manager, Kaspersky Safe Kids & Kaspersky Safe Browser are available for these platforms.

Contact Us for more Information
Contact us via e-mail or online enquiry form and we will get back to you as soon as possible.