No matter how safe your Mac is against viruses, you still need to guard against identity thieves & online attacks. That's why our advanced protection delivers much more than Mac antivirus… it helps protect your digital life.
When you go online – we protect your communications… when you surf – we block threats… when you socialize – we guard your privacy… when you shop – we protect your money.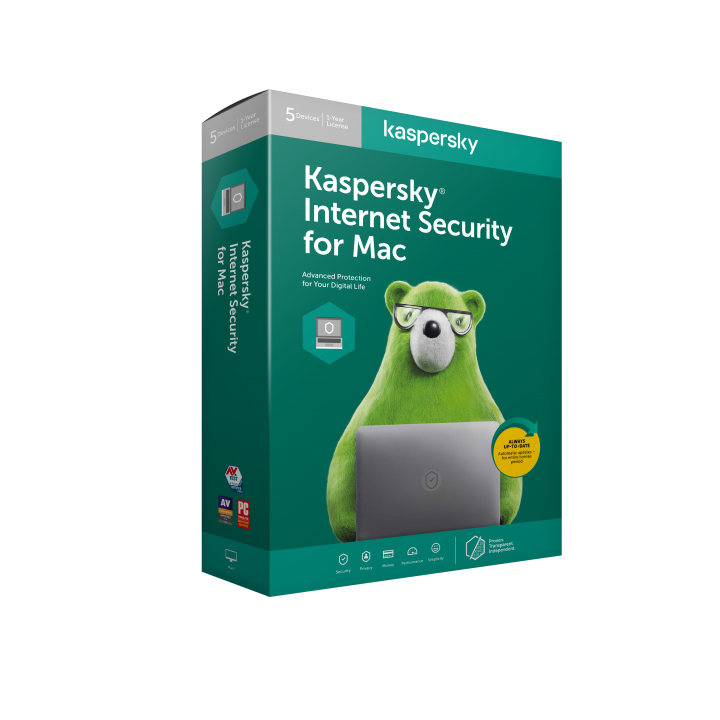 Benefits
Key Features
System Requirements
Protects against hackers, attackers & more
Protects your privacy & personal information
Protects money when you bank & shop online
Award-winning security
Our innovative security helps to protect you from viruses, spyware, phishing, dangerous websites and more.
Privacy protection
Whenever you go online, we help protect your personal data, communications & identity – plus we prevent trackers watching what you do online and we stop your own webcam being used to spy on you.
Secured connection *
Now you can access more websites and content – including sites that are outside your region. And, when you connect to the Internet – even if you're on public Wi-Fi – if your connection is unsafe, our technologies automatically guard against threats.
*Users with a valid Kaspersky Internet Security for Mac license can get a free copy of Kaspersky Secure Connection – from the Mac App Store. Please note you're able to protect 200MB of traffic per day, per device – or 300MB per day, per device if you register the service to your My Kaspersky account. The service automatically connects you to a server that's fast and close to the territory you're in. Unlimited traffic and the option to select the territory of the server you connect to is available for an additional charge.
Safe shopping
Everybody wants to shop & bank online – without cybercriminals stealing their money. So, whenever you visit a bank's or retailer's website, we automatically add extra layers of security – to help protect your money and your account details.
Protection that performs
You want your Mac to perform as it's designed to – and so do we. That's why our security works 'behind the scenes', without any fuss.
Easy-to-use security
Your security shouldn't get in your way… so we've developed advanced protection that's simple to set up and easy to run.
Mac desktops & laptops
Internet connection required – for product activation & updates and for access to some features
Webcam Protection is available for a range of compatible web-cameras. For the full list of compatible devices, please visit https://support.kaspersky.com/14248#block1
1620 MB free space on the hard drive
Memory (RAM): 2 GB
macOS 10.12 or higher

Contact Us for more Information
Contact us via e-mail or online enquiry form and we will get back to you as soon as possible.